Inverted Structured Illumination Microscope
Model: Zeiss Elyra 7 Lattice SIM
Status: Operational
The system includes
63x oil immersion lens (1.4 and 1.46 NA)
Four high power visible CW laser lines (405, 488, 561 and 642 nm)
Automated stage for multi-position imaging and tiling.
Incubation system for temperature, humidity and CO2 control.
Key Specifications
Lateral resolution (XY): 120 nm
Axial resolution (Z): 300 nm
17 SIM image frames per second at 512 × 512 resolution and 1 ms exposure time (15 phase images per one SIM image)
Simultaneous capture of two channels (filters cubes user for sequential imaging of more channels)
Brief sample preparation notes:
SIM operates using typical fluorescence mechanism. Samples prepared as you would for an inverted confocal microscope are suitable
SIM resolution relies on projecting very high contrast patterns which sample thickness can perturb. Typical sample thickness for high quality data ~ 10-20 micrometres on imaging quality glass coverslips (#1.5).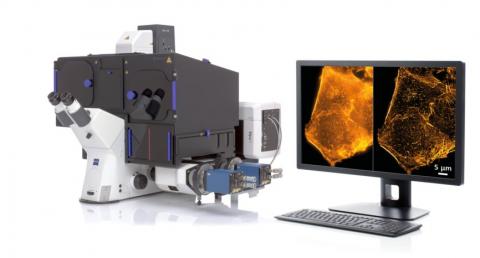 Training requests can be made through our online booking system